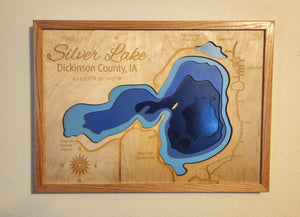 OTC
3D Laser Cut Bathymetric Lake Map of Silver Lake 21x15 - Gift - Silver Lake, Iowa Decor
Regular price
$100.00
Sale price
$150.00
Unit price
per
Enhance your home decor with our exquisite 3D Laser Cut Bathymetric Lake Map of Silver Lake! This beautifully crafted artwork captures the intricate details of Silver Lake in Iowa, measuring 21x15 inches.
Crafted from high-quality materials, this lake map is built to last. The intricate layers showcase the lake's depths and surrounding topography, giving you a sense of the lake's unique features. Hang it on your wall or display it on a shelf to add a touch of elegance to your space.
Whether you're a Silver Lake local or have fond memories of this picturesque destination, our 3D Laser Cut Bathymetric Lake Map will bring a sense of nostalgia and appreciation for the natural beauty of Silver Lake, Iowa. Transform your space with this captivating piece of decor today!
The official term for much of what we produce is "emotional marketing", a business term that simply means these pieces are intended to evoke an emotional response.  What does that mean to us?  We hope that this is exactly what it does! We hope that you chose a piece, (or we make you a custom product), that brings back a fond memory, pride etc. in short a moment of reflection every time you look at your selection.  We strive to remember that much of what we do is specifically intended to elicit this response and we take that seriously.  As we attempt to honor our heroes, we contribute a portion of our proceeds to Jared Allen's Wounded Warrior Foundation.  To make a contribution to this worthwhile organization go to https://jah4ww.funraise.org/.
---
Share this Product
---