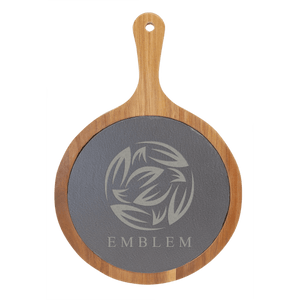 OTC
Round Acacia Wood/Slate Serving Board with Handle - 8 1/4" x 12 1/4 - Customizable - Gift - Personalize
Regular price
$35.00
$0.00
Unit price
per
Enhance your dining experience with our exquisite Round Acacia Wood/Slate Serving Board. Crafted with care, this 8 1/4" x 12 1/4" board features a convenient handle for easy carrying and serving. The combination of durable acacia wood and sleek slate creates a striking aesthetic that complements any table setting.
What sets our serving board apart is its customizable design. Make it a truly unique gift or a personal treasure by adding your own personalized touch. Whether you engrave a special message, a name, or a meaningful design, this serving board becomes a cherished keepsake for any occasion.
Upgrade your hosting game or surprise a loved one with a thoughtful and one-of-a-kind gift. Our Round Acacia Wood/Slate Serving Board with Handle is a delightful blend of elegance, practicality, and personalization. Shop now and elevate your entertaining experience.
The official term for much of what we produce is "emotional marketing", a business term that simply means these pieces are intended to evoke an emotional response.  What does that mean to us?  We hope that this is exactly what it does! We hope that you chose a piece, (or we make you a custom product), that brings back a fond memory, pride etc. in short a moment of reflection every time you look at your selection.  We strive to remember that much of what we do is specifically intended to elicit this response and we take that seriously.  As we attempt to honor our heroes, we contribute a portion of our proceeds to Jared Allen's Wounded Warrior Foundation.  To make a contribution to this worthwhile organization go to https://jah4ww.funraise.org/.
---
Share this Product
---