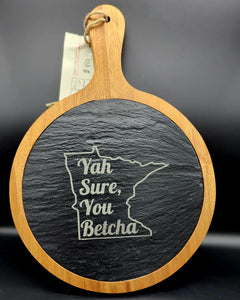 OTC
Minnesota Acacia Wood/Slate Serving Board with Handle -"Yah Sure You Betcha" 8 1/4" x 12 1/4" - Gift - Charming
Regular price
$40.00
$0.00
Unit price
per
Introducing our Minnesota Acacia Wood/Slate Serving Board with Handle, a delightful addition to your home decor and a perfect gift for any occasion. This charming serving board captures the essence of Minnesota's rich culture and spirit.
Crafted from high-quality acacia wood, known for its durability and natural beauty, this serving board showcases the rustic elegance that will enhance your culinary presentation. The contrasting slate surface adds a touch of sophistication. Measuring 8 1/4" x 12 1/4", it offers ample space for arranging and displaying a variety of delectable treats. The standout feature of this serving board is its handle, providing convenient portability and effortless serving. 
Emblazoned with the playful phrase "Yah Sure You Betcha," this serving board embodies the lighthearted and friendly spirit of Minnesota. It brings a touch of humor and warmth to any gathering, making it a conversation starter and a delightful addition to your kitchen or dining room.
Whether you're searching for a thoughtful housewarming gift or a memorable present for a special someone, this Minnesota Acacia Wood/Slate Serving Board with Handle is sure to impress. Its combination of natural beauty, durable craftsmanship, and Minnesota charm makes it an exceptional addition to any home. Bring a piece of Minnesota pride to your kitchen and elevate your entertaining experience with this charming serving board today!
The official term for much of what we produce is "emotional marketing", a business term that simply means these pieces are intended to evoke an emotional response.  What does that mean to us?  We hope that this is exactly what it does! We hope that you chose a piece, (or we make you a custom product), that brings back a fond memory, pride etc. in short a moment of reflection every time you look at your selection.  We strive to remember that much of what we do is specifically intended to elicit this response and we take that seriously.  As we attempt to honor our heroes, we contribute a portion of our proceeds to Jared Allen's Wounded Warrior Foundation.  To make a contribution to this worthwhile organization go to https://jah4ww.funraise.org/.
---
Share this Product
---