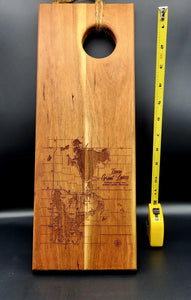 OTC
"Boji" Charcuterie Board - Boji Gift - Unique Charcuterie - Cherry
Regular price
$40.00
$0.00
Unit price
per
Introducing the exquisite "Boji" Charcuterie Board, handcrafted with love and precision from beautiful cherry wood. This stunning piece is a true work of art, designed to elevate your dining experience and impress your guests.
The board showcases the natural beauty and warm tones of cherry wood, with its rich reddish-brown hues and subtle grain patterns. Each board is carefully selected and meticulously crafted by skilled artisans to ensure the highest quality.
Measuring approximately 18 inches in length and 12 inches in width, this charcuterie board provides ample space for arranging a variety of delectable treats. Whether you're hosting an intimate gathering or a grand celebration, this board is perfect for displaying an assortment of cheeses, cured meats, fruits, nuts, and other delectable delights.
To enhance its beauty and longevity, the board is finished with food-safe oils that nourish the wood and bring out its natural luster. It also features curved edges and a convenient handle, adding a touch of elegance and making it easy to carry and serve your culinary creations.
The "Boji" Charcuterie Board makes for a thoughtful and unique gift for weddings, housewarmings, anniversaries, or any occasion where the love for fine food and aesthetics collide. It's a statement piece that will elevate your table setting and become the centerpiece of any gathering.
Please note that due to the handmade nature of this product, each board may have slight variations in color and grain pattern, making it truly one-of-a-kind.
Add a touch of rustic elegance to your dining experience with the "Boji" Charcuterie Board made from cherry wood. Place your order today and embark on a journey of culinary delights!
The official term for much of what we produce is "emotional marketing", a business term that simply means these pieces are intended to evoke an emotional response.  What does that mean to us?  We hope that this is exactly what it does! We hope that you chose a piece, (or we make you a custom product), that brings back a fond memory, pride etc. in short a moment of reflection every time you look at your selection.  We strive to remember that much of what we do is specifically intended to elicit this response and we take that seriously.  As we attempt to honor our heroes, we contribute a portion of our proceeds to Jared Allen's Wounded Warrior Foundation.  To make a contribution to this worthwhile organization go to https://jah4ww.funraise.org/.
---
Share this Product
---