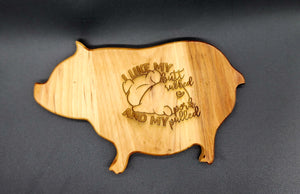 Okoboji Trading Company
I like my butt rubbed and my pork pulled cutting board (5"x9.5) - hickory - small
Regular price
$30.00
$0.00
Unit price
per
Introducing our delightful cutting board, the perfect addition to your kitchen arsenal! Crafted with care, this small-sized cutting board measures 5" x 9.5" and is made from exquisite hickory wood.
But that's not all! Our cutting board features a charming and lighthearted engraving that adds a touch of humor to your culinary experience. With the message "I like my butt rubbed and my pork pulled," it's sure to bring a smile to your face and make a statement in your kitchen.
This cutting board is not only aesthetically pleasing but also highly functional. The premium hickory wood provides a durable and sturdy surface for all your chopping, slicing, and dicing needs. Its compact size makes it ideal for smaller tasks, ensuring convenience and easy storage.
Whether you're a professional chef or a passionate home cook, this cutting board is designed to withstand the test of time. Its smooth surface is gentle on your knives, ensuring they stay sharp for longer. The natural antimicrobial properties of hickory wood add an extra layer of cleanliness and hygiene to your food preparation.
In addition to its practicality, this cutting board makes a wonderful gift for food enthusiasts or anyone with a playful sense of humor. It's perfect for birthdays, housewarmings, or simply as a fun surprise for your favorite cooking aficionado.
Upgrade your kitchenware with our "I like my butt rubbed and my pork pulled" cutting board
The official term for much of what we produce is "emotional marketing", a business term that simply means these pieces are intended to evoke an emotional response.  What does that mean to us?  We hope that this is exactly what it does! We hope that you chose a piece, (or we make you a custom product), that brings back a fond memory, pride etc. in short a moment of reflection every time you look at your selection.  We strive to remember that much of what we do is specifically intended to elicit this response and we take that seriously.  As we attempt to honor our heroes, we contribute a portion of our proceeds to Jared Allen's Wounded Warrior Foundation.  To make a contribution to this worthwhile organization go to https://jah4ww.funraise.org/.
---
Share this Product
---