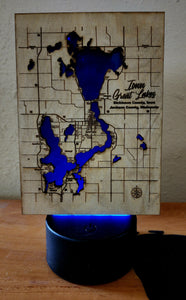 OTC
Small Desk Top Bathymetric Hologram of the Iowa Great Lakes - Perfect for Any Space! Contour Hologram of Dickinson County Iowa
Regular price
$30.00
$0.00
Unit price
per
Introducing our desk top Bathymetric Hologram of the Iowa Great Lakes, a unique and captivating way to showcase this stunning area!
Perfect for a desk or tabletop, this hologram makes a stunning addition to any space. Whether you're a fan of water sports, fishing, or simply appreciate the natural beauty of the Iowa Great Lakes, this hologram is sure to captivate your imagination and transport you to the depths of this incredible area.  Home to the blue water of West Okoboji, Arnolds Park and the University of Okoboji these bathymetric maps make a great addition to your home or lake cabin.  The chain includes: Big Spirit, East Lake Okoboji, West Lake Okoboji, Upper Gar, Minnewashta and Lower Gar, as well as smaller lakes in Dickinson County.  (Other lakes available or Big Spirit Lake, West or East Okoboji are available as stand alone maps). Approximate size is 5x7 and comes with light base, USB cable, and remote.
The official term for much of what we produce is "emotional marketing", a business term that simply means these pieces are intended to evoke an emotional response.  What does that mean to us?  We hope that this is exactly what it does! We hope that you chose a piece, (or we make you a custom product), that brings back a fond memory, pride etc. in short a moment of reflection every time you look at your selection.  We strive to remember that much of what we do is specifically intended to elicit this response and we take that seriously.  As we attempt to honor our heroes, we contribute a portion of our proceeds to Jared Allen's Wounded Warrior Foundation.  To make a contribution to this worthwhile organization go to https://jah4ww.funraise.org/.
---
Share this Product
---