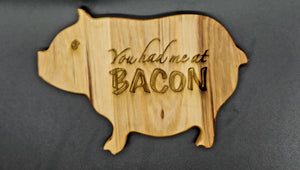 OTC
You had me at BACON cutting board - gift -
Regular price
$30.00
Sale price
$40.00
Unit price
per
Introducing our captivating "You had me at BACON" cutting board! This unique and delightful kitchen essential is the perfect gift for bacon enthusiasts and culinary aficionados alike. Crafted with love and attention to detail, our cutting board combines functionality with a whimsical touch.
The centerpiece of this cutting board is the playful and mouth-watering phrase, "You had me at BACON." Handcrafted with precision and engraved with care, the words add a delightful twist to the kitchen ambiance, bringing smiles and laughter to your cooking experience.
Whether you're a bacon enthusiast or know someone who can't resist the sizzling allure of this beloved ingredient, our "You had me at BACON" cutting board is the perfect gift. Surprise a loved one with this delightful kitchen accessory for birthdays, housewarmings, weddings, or any special occasion. It's also a fantastic conversation starter during social gatherings and dinner parties.
To ensure its longevity, we recommend handwashing the cutting board with mild soap and water. Avoid soaking or putting it in the dishwasher, as this may compromise the quality of the engraving. Treat your cutting board with care, and it will continue to delight you and your loved ones for years to come.
The official term for much of what we produce is "emotional marketing", a business term that simply means these pieces are intended to evoke an emotional response.  What does that mean to us?  We hope that this is exactly what it does! We hope that you chose a piece, (or we make you a custom product), that brings back a fond memory, pride etc. in short a moment of reflection every time you look at your selection.  We strive to remember that much of what we do is specifically intended to elicit this response and we take that seriously.  As we attempt to honor our heroes, we contribute a portion of our proceeds to Jared Allen's Wounded Warrior Foundation.  To make a contribution to this worthwhile organization go to https://jah4ww.funraise.org/.
---
Share this Product
---