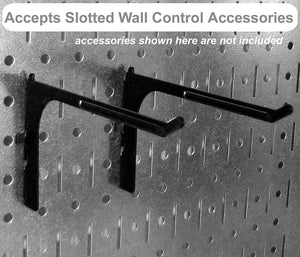 OTC
Wall Control Metal Organization System
Regular price
$0.00
$0.00
Unit price
per
All standard cases come with Kaizen 57 MM Closed Cell Foam.  Upgrade to Wall Control's metal organizer, by adding to your cart, for the ultimate in flexibility. (please specify silver or black)*
Product description
Wall Control Horizontal Steel Pegboard Panels offer a level of quality and craftsmanship that is unmatched. There are several attributes that separate Wall Control Pegboard from the competition and put Wall Control Pegboards in a league of their own, first among them being quality and customer support. Wall Control Pegboard is Made in America and comes with a Lifetime Guarantee. Wall Control Pegboards offer superior construction and features a full flush-with-the-wall mounting flange. This is very important because it not only allows for easy installation and hook pass-through clearance but it also allows the screw heads of the included mounting screws to pass all the way through the panel face and make solid contact with the wall. Competitor brands often require you to tighten the screw head to the actual panel face leaving a big gap between the screw head and the wall for a very insecure attachment to the wall where the screw barely grips the wall or the drywall anchor, indents the panel face, and does not offer a secure installation that can safely hold the kind of weight a Wall Control Metal Pegboard is capable of holding. Wall Control Steel Pegboards offer a finish and appearance that is unmatched. Wall Control Shiny Galvanized Steel Pegboards offer both durability and a rich metallic attractive appearance that prevents corrosion. Other brands offer dull galvanized steel finishes that just don't have the shine and sheen of a Wall Control Steel Pegboard finish. The Wall Control Steel Pegboard Home and Garage Tool Storage Pack includes Three 32-Inch Wide x 16-Inch Tall Wall Control Horizontal Galvanized Steel Pegboard Panels that can be mounted side-by-side, top-to-bottom, or in separate locations altogether. Wall Control Pegboard Panels are modular so they can be tiled as needed to create large areas of pegboard wall-organization.
* Additional cost may be added for unique configurations and additional hardware.
The official term for much of what we produce is "emotional marketing", a business term that simply means these pieces are intended to evoke an emotional response.  What does that mean to us?  We hope that this is exactly what it does! We hope that you chose a piece, (or we make you a custom product), that brings back a fond memory, pride etc. in short a moment of reflection every time you look at your selection.  We strive to remember that much of what we do is specifically intended to elicit this response and we take that seriously.  As we attempt to honor our heroes, we contribute a portion of our proceeds to Jared Allen's Wounded Warrior Foundation.  To make a contribution to this worthwhile organization go to https://jah4ww.funraise.org/.
---
Share this Product
---